Highland Games

Stones Will Be Thrown!  Cabers Will Be Tossed!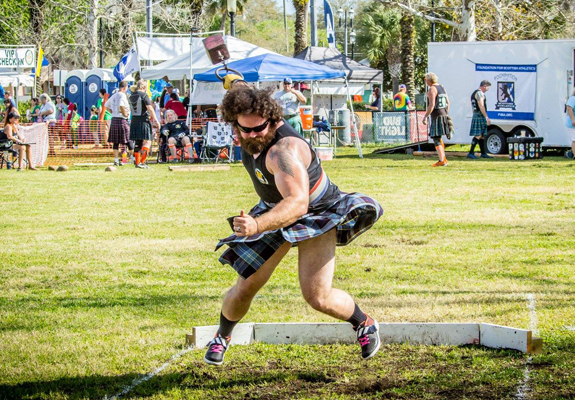 HISTORY: Originating in the Scottish Highlands during the 11th Century, Highland Games have long been a favorite spectacle, and they're sure to be a major draw again at the 2024 St. Augustine Celtic Music & Heritage Festival March 9 & 10. You'll see some of the most impressive kilt-wearing athletes around challenge one another in traditional Scottish heavy athletics and strength competitions, including the Scottish weight throw, and the always entertaining caber toss.
The Scottish Highland Games are traced back to King of Scots Malcolm III, who summoned contestants to a footrace in order to find the fastest runner in the land to serve as royal messenger. Over the centuries, Highland Games events have expanded to include entertainment and exhibits celebrating Scottish and Gaelic culture. Thousands of fans from throughout Florida, Georgia and the Carolinas turn out every year for the St. Augustine Celtic Festival Highland Games.
Athlete Registration Information
Registration Opens November 15, 2023
Saturday & Sunday Beginning at 10 AM (Athletes should arrive by 9 AM)
Friday-Games Clinic from 4:00-6:00 PM – The Clinic offers free introduction and training to anyone (novice or experienced) interested in competing as an athlete.
Each day's competition is new and has no bearing on the results for the next day.
Awards will be presented at the close of each full day of competition.
$30 per athlete to compete for the weekend.
Registration includes athletic participation, free Festival general admission, and free lunch for day(s) of participation. Athletes who register before February 15 also receive a free Festival tee shirt.
Awards will be presented at the close of each day's competition.
Athletes are invited to march in the St. Patrick Parade on Saturday at 10 AM. (If you march in the Parade, you will be scheduled for competition later in the day.)
2024 CLASSES OF COMPETITION
SATURDAY MARCH 9
Men's Class A 
Men's Class B 
Masters Men Age 40-49 
Women's Open
SUNDAY MARCH 10
Masters Men Age 50-59
Women's Masters Age 40+ 
Senior Masters Men Age 60+ 
Novice Men
2024 EVENTS INCLUDE:
Open Stone Put (16 lb. thrown for distance in any style)
Braemer Stone Throw 
56 lb. Weight for Distance
28 lb. Weight for Distance
Caber Toss (size and weight of caber differs between the classes of athletes)
Sheaf Toss (16 lb. burlap bag tossed with a pitch fork for height)
56 lb. Weight for Height
SPECIAL AMATEUR COMPETITION
Saturday 1:00 PM
Members of the general public (aged 21+) are invited to sign up by Noon on Saturday for an amateur competition at 1:00 PM.
A $50 Gift Card to ABC Fine Wines & Spirits will be awarded to the male and female winners.